Website Template Design Services
We are creating all kinds of website templates
Your ideas are our priorities! We making ideas happen.
Our Website Design Templates
With our website templates you can create a well-designed, reasonably priced website in the fastest and easiest way possible.
We are creating multifunctional website templates that can be used for all types of websites, with unlimited customization options and easy for maintenance.
We can create both static and dynamic website templates which are built with a focus for easy website maintenance even by people without any experience.
Some of our template designing services:
✔ HTML Themes & Templates
✔ CMS Themes & Templates.
You can order a custom website template or purchase a ready-to-use website from our shop.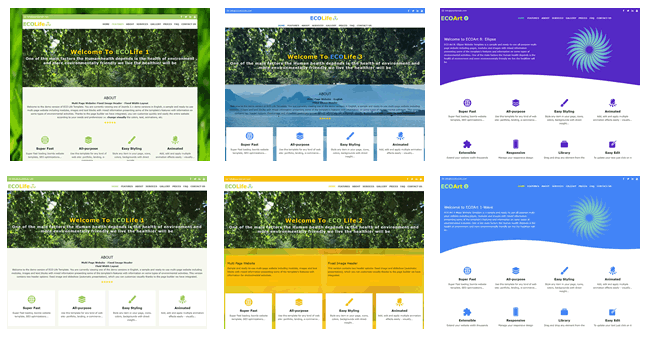 Page Builder Integrated
For easy maintenance of the websites, we integrate a visual Page Builder and you will be able to edit your website content visually. Whether you are new to web design or an experienced professional, the page builder will save you a lot of time because it is easy for everyone to use.
Drag and Drop
Drag and drop building - allows you to place and style your items where you want them without having to code.
Responsive Design
With this feature you will have responsive editing options, which allows you to determine how your site will appear on the mobile devices and your website will look good on every screne resolution.
Ease to Use
Whether you're new to the web design or a seasoned pro, the page builder is very easy for everyone to use. It's a great professional page builder that allows you to design your website the way you wish.
Website Design Templates
All our templates include a quickstart package and you can launch your website in the fastest and easiest way. The quickstart package represents a fully functional ready to use website exactly the same copy as the demo version on our website and once installed on your server, you will have a complete website exactly the same as the demo version. You can see all of our templates in our shop.